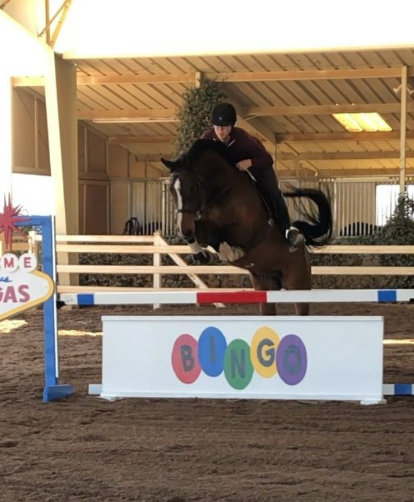 USHJA Certified Head Trainer
HEATHER SCANLON
Highland Manor Farm is proud to have Heather Scanlon as our full-time USHJA certified head trainer. Heather joined HMF in 2018 with over 20 years of equine experience.
Heather began her equine career growing up in Lancaster County, Pennsylvania. Living in the heart of horse country, she had the opportunity to clinic and lesson from many of the countries best trainers such as Anne Kursinski, George Morris, and Melvin Dutton. Heather started developing her extensive experience and background as a junior rider showing her own horses and ponies, as well as catch-riding, on the local and rated circuits in the Hunter, Jumper, and Equitation divisions.
At 18, Heather started a small riding and showing program of her own, based out of Willow Creek Farm. During this time, she also continued to purchase and retrain retired racehorses from Penn National Racetrack for new careers in hunters, jumpers, and eventing; while simultaneously earning her bachelor's degree and her Equine Massage Therapist certification.
In 2007, Heather was offered a position teaching lessons and running the volunteer program at Hope Springs Equestrian Therapy, in Chester Springs, PA. She helped to grow the riding and volunteer program, while focusing on eventing several of her off-the-track thoroughbreds.
Heather expanded her equine knowledge base into combined driving and 4-in-hand coach as a groom and stable manager for South Ridge Farm, traveling the East Coast while working with top level Welsh Cobs and German Sport Ponies.
In 2012, Heather moved to Washington, D.C. to take a position as Assistant Trainer of the Potomac Horse Center. While there, she coached the show, IEA and equitation teams, trained and taught all levels of horses and riders in Hunters, Jumpers, Equitation, and Eventing. She reinstated and developed the curriculum for the Cross-Country Jumping classes and taught Dressage up to 3rd Level. Heather is a strong believer in continuing educational opportunities and was fortunate to have the opportunity to clinic, lesson, and show with many wonderful trainers during her time there, such as Jimmy Wofford, David O'Connor, and Gina Hall.
Continuing to develop her career, Heather relocated to Raleigh, North Carolina in 2014. During her time in NC she managed a large riding school and show barn where she co-coached IEA and IHSA equitation teams to multiple individual and team championships throughout the season and taught all levels of horses and riders.
In 2016, she accepted a position for a large Hunter/Jumper farm in Las Vegas. There, Heather continued to teach and train Hunters, Jumpers, and Equitation riders and horses from the local level to rated level and earned her USHJA certification as a hunter/jumper trainer. Heather also holds her CPR and First Aid Certification.
Missing the fall colors and green fields, Heather and her family have relocated back to the south and joined Highland Manor Farm as our Head Trainer. She is accepting new lesson, training and show clients. Please email trainer@highlandmanorfarm.net for more information.
Hunters
Jumpers
Equitation
Eventing
Horsemanship